Software developer SolarWinds is set to begin trading on the New York Stock Exchange under the ticker symbol "SWI." The company lowered the price range Thursday for the planned IPO.
The Company
SolarWinds provides information technology infrastructure management software, according to the company's S-1 filing.
"Our business is focused on building products that enable technology professionals to manage 'all things IT.' We continuously engage with technology professionals to understand the challenges they face maintaining high-performing and highly available on-premise, public and private cloud and hybrid IT infrastructures."
Nearly all Fortune 500 companies use these products, amounting to 275,000 customers in 190 countries.
SolarWinds SWIS API Programming Class - SolarWinds Lab #39
The company's range of 50 products are marketed toward technology professionals with a high-velocity and low-touch digital marketing sales approach, the filing said.
SolarWinds estimates an aggregate license revenue market opportunity of roughly $61.9 billion.
When this data is calculated with its estimated annual subscription revenue, the total revenue market opportunity totals $66.7 billion, the company said.
In a S-1 disclaimer, SolarWinds said that "continued growth in our business is dependent upon identifying, developing and maintaining strategic relationships with our existing and potential channel partners that can drive substantial revenue and provide additional valued-added services to our customers."
Benzinga's breaking-news platform, Benzinga Pro, covers many IPO openings in real time.
To see these indications, sign up for Benzinga Pro and filter by the "IPOs & Offerings" news category.
The Details
SolarWinds has filed to raise $387.5 million in an IPO of common stock just three years it stopped trading on the NYSE after being purchased in a $4.5-billion go-private transaction.
The company plans to offer 25 million shares in a range between $15 and $16, down from its prior range of $17 to $19, it said in an amended S-1 filed Thursday.
The purpose of going public is to increase SolarWind's financial flexibility, create a public market for common stock and enable access to the public equity markets for stockholders.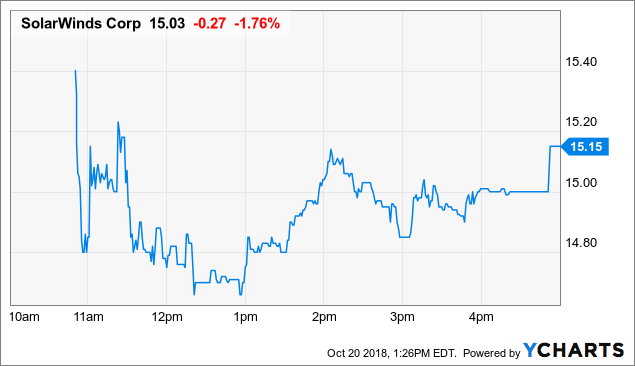 The proceeds will be used for general corporate purposes like working capital, expenditures and continued investment, the company said.
Some bookrunners of the IPO are Goldman Sachs, JPMorgan, Morgan Stanley and Credit Suisse.
The stock opened Friday at $15.30 per share.
Related Links:
Elastic's IPO: What You Need To Know
Analysts Bullish On Farfetch After September IPO
© 2020 Benzinga.com.
Benzinga does not provide investment advice. All rights reserved.