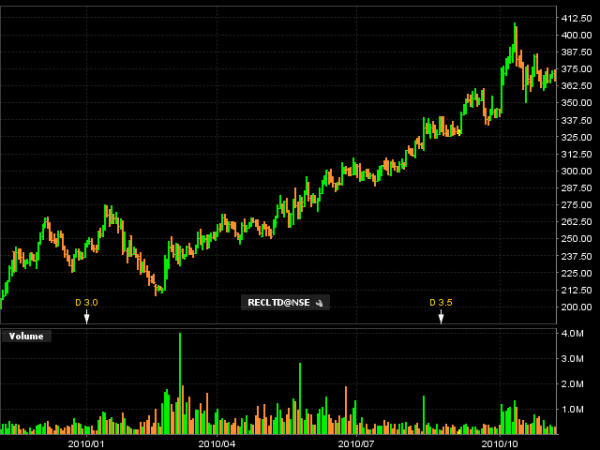 This article was posted on Aug 29, 2009 and is filed under Stock News
NHPC Limited IPO Listing Info
IPO Listing Date: Tuesday, September 1, 2009
BSE Script Code: 533098
NSE Symbol: NHPC
Listing in: 'B' Group of Securities
ISIN: INE848E01016
Issue Price: Rs.
36/- per share
Face Value: Rs 10/- Per Equity Share
Incorporated in 1975, NHPC Limited (Formerly known as National Hydroelectric Power Corporation Ltd.) is a Govt.
of India's Enterprise. NHPC is a hydroelectric power generating company dedicated to the planning, development and implementation of an integrated and efficient network of hydroelectric projects in India. They execute all aspects of the development of hydroelectric projects, from concept to commissioning.
NHPC have developed and constructed 13 hydroelectric power stations and their total installed capacity is currently 5,175 MW.
This includes two power stations with a combined capacity of 1,520 MW, constructed and operated through our Subsidiary, NHDC. Company's power stations and hydroelectric projects are located in the North and North East of India, in the states of Jammu & Kashmir, Himachal Pradesh, Uttarakhand, Arunachal Pradesh, Assam, Manipur, Sikkim and West Bengal.
Company generated 14,813.16 MUs of electricity in Fiscal 2008.
Presently, They are engaged in the construction of 11 additional hydroelectric projects, which are expected to increase total installed capacity by 4,622 MW. Further eight projects, including one joint venture project, with an anticipated capacity of 5,751 MW, are currently awaiting sanction from the CCEA.
NHPC have obtained ISO 18001:2000, ISO 9001:2000 and ISO 14001:2004 certifications from the Bureau of Indian Standards.
Tags: buy or not NHPC IPO, IPO listing in India, listing date of NHPC IPO, news on IPO, NHPC Limited IPO listing date
Note: The Credit of this post goes to the original witters of this post and not to NSEGUIDE
Similar Posts:
Email this Post to your friends