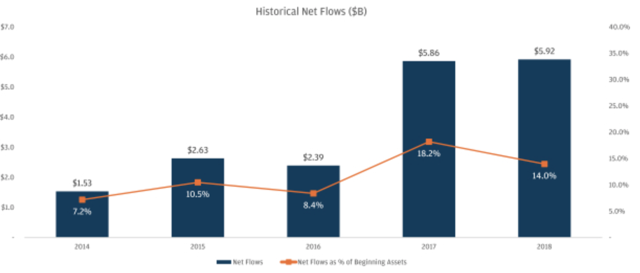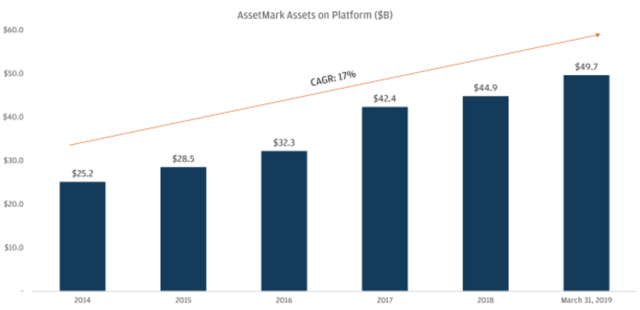 Following in its two largest competitors' footsteps, AssetMark is looking to become the latest wealth management firm to go public — but questions remain about the nature of the offering and the firm's true valuation.
Fellow turnkey asset management providers Envestnet and SEI Advisor Network are already public. Generally, one of the most persistent challenges — and thorny for analysts — is how to gauge the business model of a TAMP with multiple revenue streams, says Kathleen Smith, principal of Renaissance Capital, a provider of institutional research and IPO ETFs.
"Should [AssetMark] be valued as a wealth manager or a technology provider for independent wealth managers?" says Smith.
"To us, it looks like the technology side is what will excite investors."
AssetMark serves approximately 137,000 investor households through 7,600 advisor relationships, according to its SEC filing. The firm grew 23% year over year with sales of $364 million in 2018.
In fact, the Concord, California-based firm is more profitable and growing faster than Envestnet, its largest competitor.
That's a favorable sign to investors, Smith says. "We know how Envestnet has traded so far this year," she says, adding the firm's stock is up 38% in 2019. "Investors have liked their story."
Envestnet dominates the sector with over $500 billion in advisors' assets on its platform, while the next closest TAMP, SEI Advisor Network, has around $65 billion.

Representatives from AssetMark, SEI and Envestnet declined to comment for this article.
AssetMark is reportedly looking to land a valuation between $1 and $2 billion, and will likely fall somewhere closer to $1.3 billion, according to Chip Roame, managing partner at Tiburon Strategic Advisors.
Smith agreed, putting the final valuation around $1.2 billion.
The offering validates the explosive growth seen in the independent channel, which has now grown fast enough to catch the eye of retail investors, Roame says. "It's a highly attractive, high revenue-growth and high-margin business," he says.
Investors currently holding stock in already-public Envestnet and SEI Investments will be keen to "buy up" AssetMark's offering as well, he says.
The firm was purchased by Huatai Securities in 2016 for $780 million and has increased the assets it administers by about 65% since the China-based brokerage took over.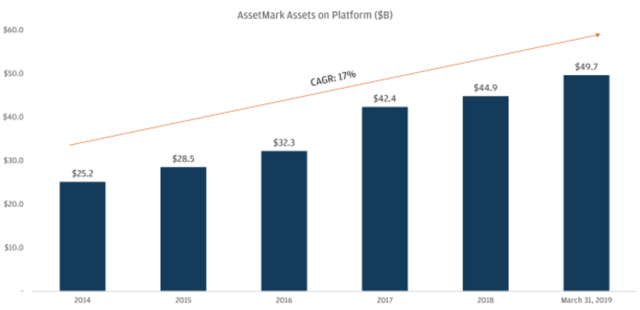 The TAMP was previously owned by private equity firms Genstar Capital and Aquiline Capital Partners.
In August, AssetMark hit $50 billion in assets by agreeing to buy Global Financial Private Capital, an RIA with $5.7 billion in assets and around 200 advisors. "They are trying to monetize some of that investment," Smith says of Huatai, but adds there is additional new capital being raised.
After a slow start, IPOs hit a stride in the second quarter with 62 public offerings raising $25 billion. That marks the largest number of deals in four years and the most capital raised in five, according to research from Renaissance Capital.
IPO Valuation Model
Driven by strong tech companies — like Pinterest and Slack — the average IPO returned 30% higher than its listing during the quarter.
The new capital structure could provide a steady perch for AssetMark to land new acquisitions.
The mostly likely targets would be small-to-midsize TAMPs, Roame says, with around $1 to $10 billion in assets under management.
While its IPO seems promising, AssetMark will have to provide more information to regulators before investors can get a real sense of the repercussions for the independent advisory space, Smith says.
"There are still a lot of blanks that have to be filled in," Smith says.